Solar electrical protection > Solar DC Switch >
Solar isolator switch DC switch disconnector
The solar DC switch is installed in solar system and it is convenient to check by switch off it.
Product Description
Technical Data of 1000V DC Isolator :
| | |
| --- | --- |
| Rated Voltage | 600VDC TO 1500VDC |
| IP Rating | IP66 |
| Connection Type | M20 M25 Solar connector |
| Rated Current | 10A,16A,20A,25A, 32A,40A,50A,63A |
| Working Temperature | -5°C~+60°C |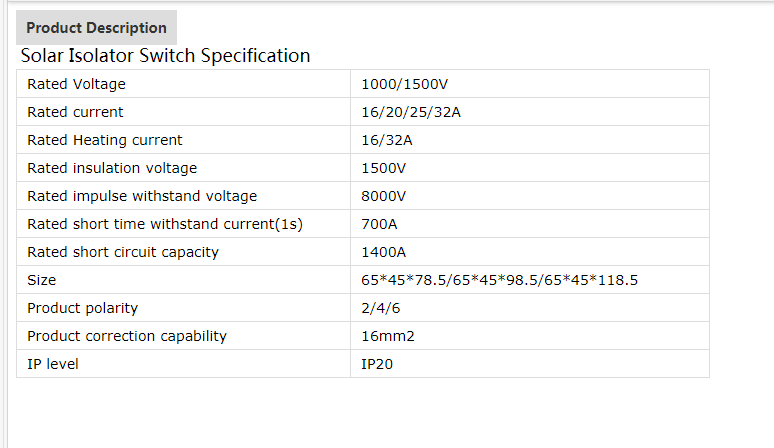 1. IP66 rated enclosure.
2. Ample internal space for easier wiring.
3. Polycarbonate flame retardant ROHS compliant plastic.
4. 10A,16A,20A,25A and 32A,40A,50A,63A all rated up to 1200V DC.
5. Unique spring loaded switching mechanism for high speed switching.
6. Knife edge self-cleaning contacts for increased switch life.
7. Long arc chambers to help rapid arc suppression.
8. 16mm2 rising clamp terminals for easy wiring.
9. The switch has 4 separate poles.
10. Links can be used to change the way that the poles are connected.
11. Poles can be connected in series parallel or a variation of both series and parallel.
12. Interconnection of the poles dictates the load that the switch can make and break.
13. As the number of poles used increases so the total load switching capacity of the device increases.